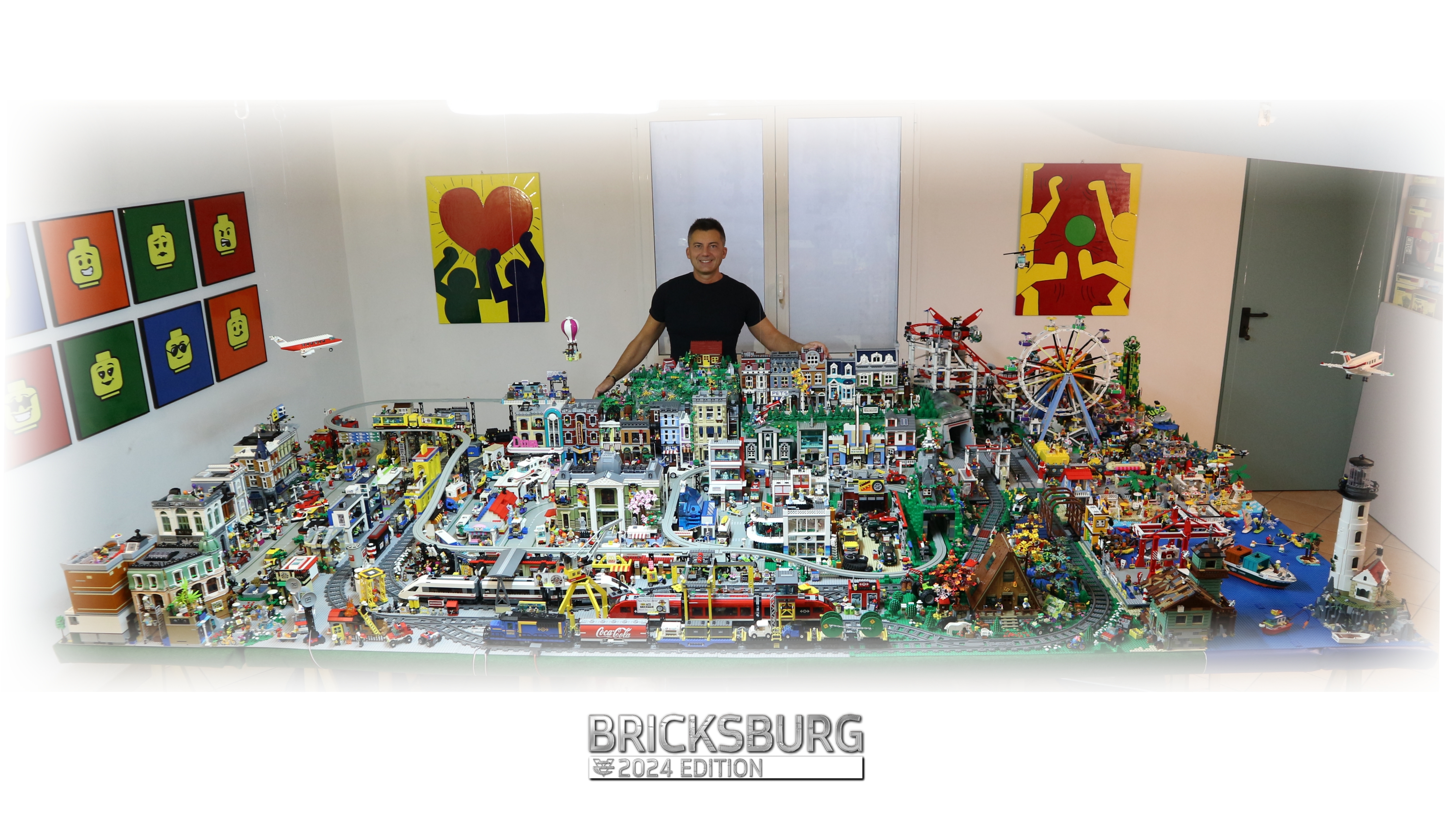 Brickburg Project
Author: Emiliano Vezzoli
MY GREAT LEGO CITY DIORAMA
This project was born in 2012. The idea was to recover all the lego building toys I was a child to build a citizen diorama. In 2012 the first layout had these dimensions: 2200x1200 mm. In 2020 the diorama reached the considerable size of 4200 x 2700 mm.
2021 Technical specifications
Dimensions: 4.200 x 2.700 mm
Lego Bricks: over 80.000
Minifigures: over 800
Power Functions Trains: 3
Monorail: 1
Train Tunnels: 3
Light and Sounds Park Rides: 10
The layout project was designed using the bluebrick software. I worked with Bluebrick (bluebrick.lswproject.com/) for the design of baseplates layout. The complete layout is exported as an image (eg. JPG) and then used as a background in an photo editor (I used Corel PhotoImpact).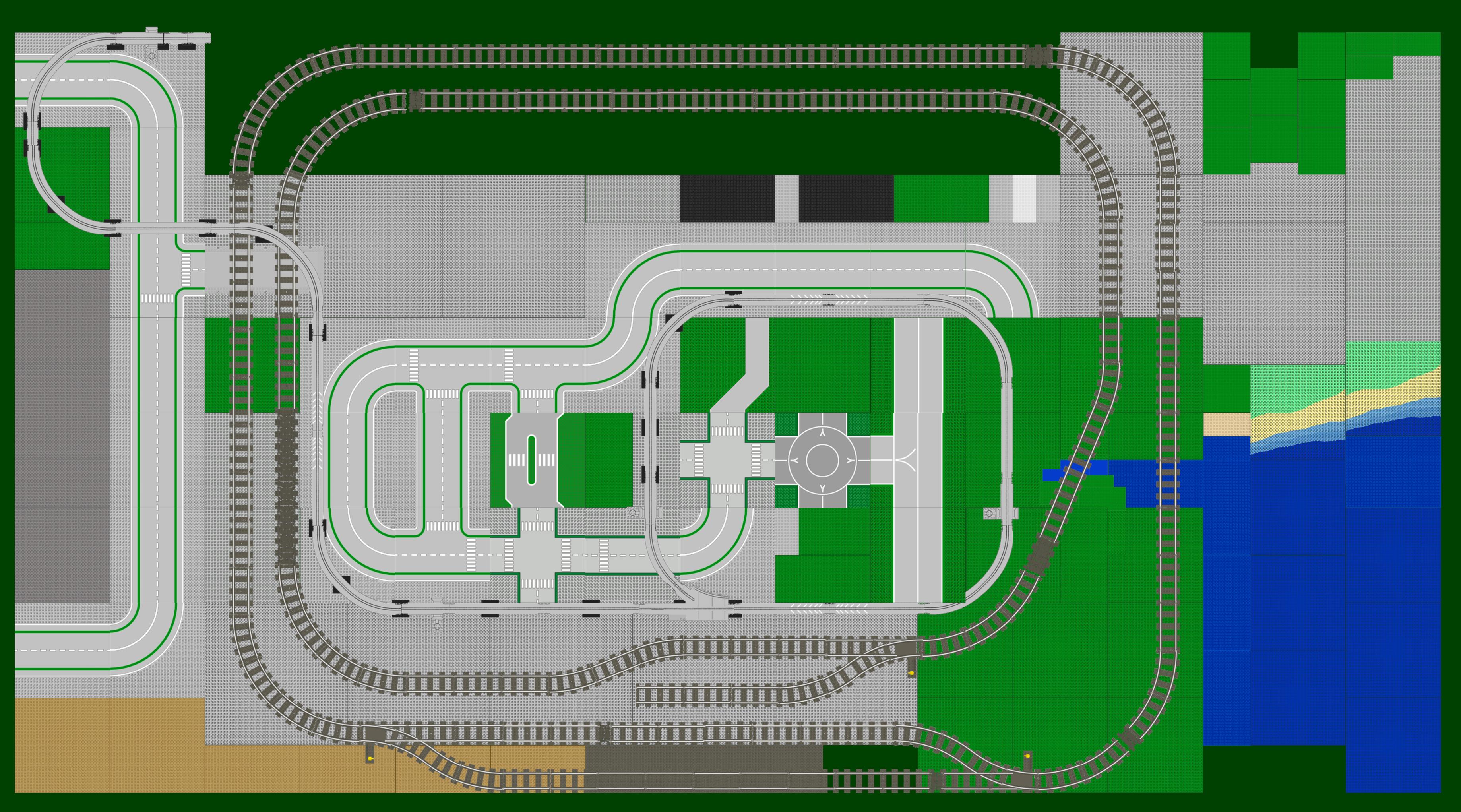 Bluebrick is the perfect solution for the detailed design of the monorail, railway circuits, tracks and switches positioning.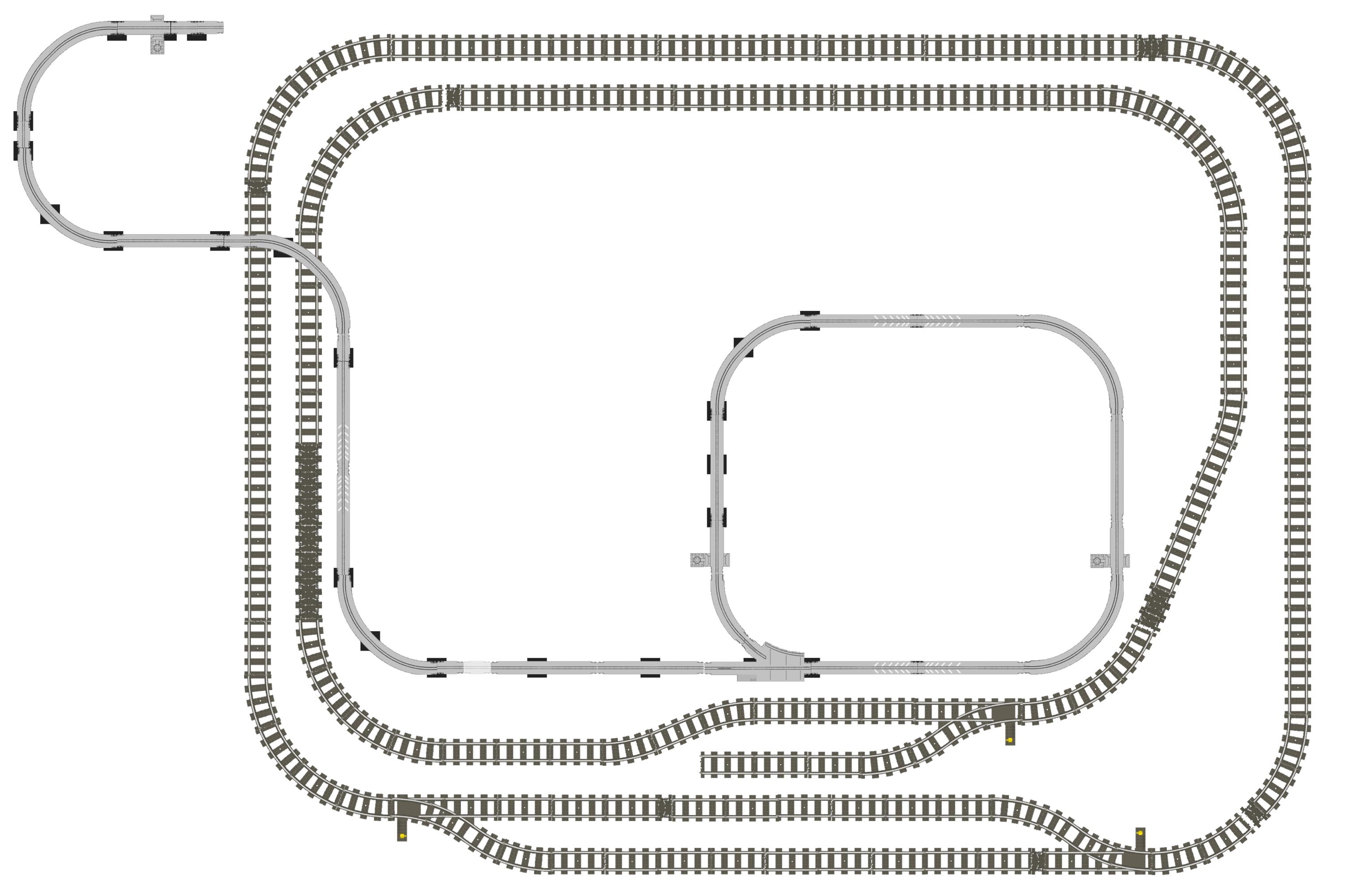 Each set comes from LEGO LDD, exporting a PNG vector image (you get it by pressing CTRL+K). Then I patiently opened the editor of images per SET object, copy and paste into the main layout, obviously resizing the object to appear with the correct proportions.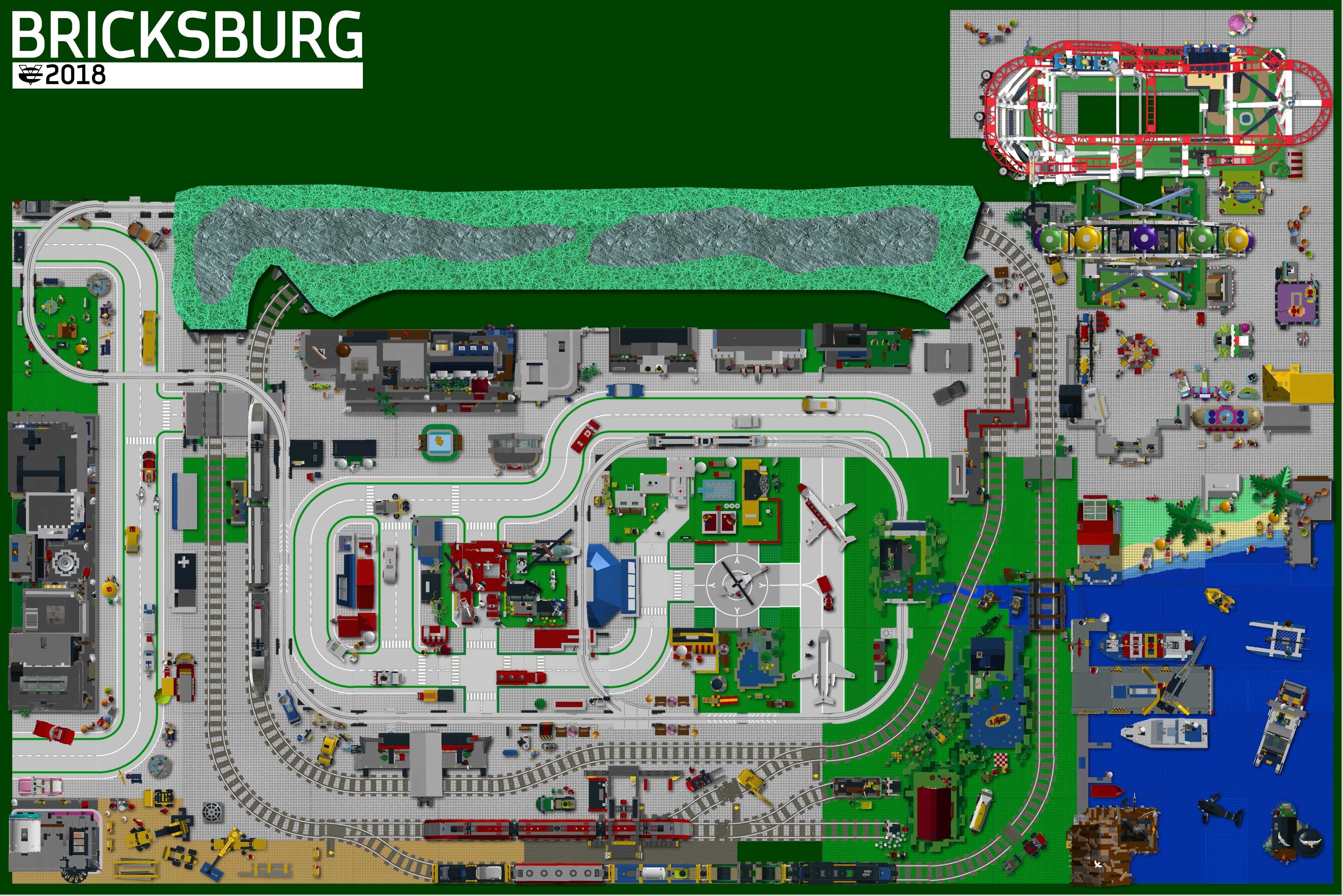 The 2018 layout (release 2.5) was upgraded by introducing automation of railway control and carousels. Automation was handled with ARDUTRAIN (www.ardutrain.com). Thanks to ArduTrain WiFi you can control the LEGO diorama through any browser-equipped device; once the system is complete you will be able to control 8 Power Functions trains, 6 motorized switches, 4 separate outputs for LED lighting and LEGO motors and roll out automated routines triggered by sensors (up to 6) arranged along the track to detect trains. You can also monitor your diorama remotely by streaming video from a webcam. You can find an index in the upper right box. Following all the steps in this guide will be enough to get your system up and running: buy the components, connect them together, install the provided software and you're ready to go. The system has been designed to rely on low-cost components and to be set up by anyone without any particular computer or electronic skills.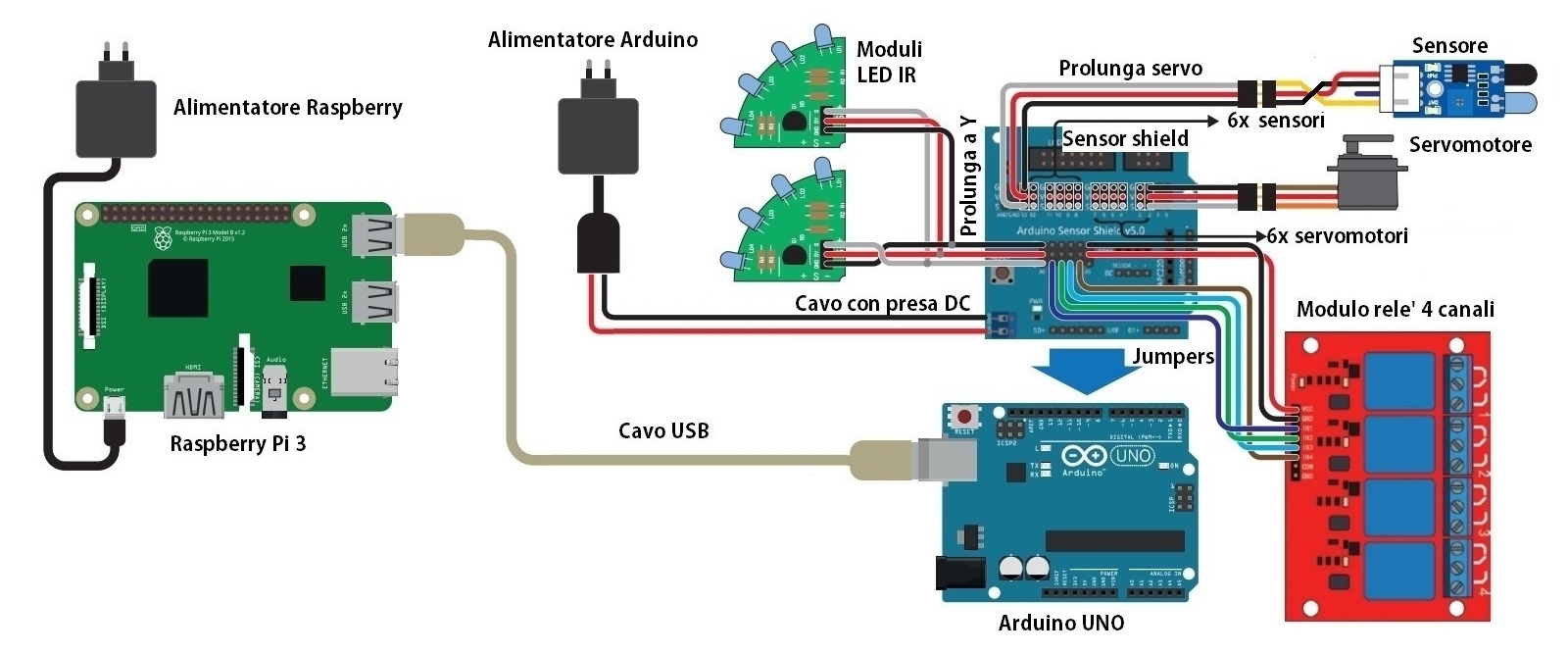 Hardware/software required:
N. 2 4DBrix track switch motors (www.4dbrix.com)
N. 5 4DBrix train detection sensors
N. 2 IR LED transmitter 38 Khz
N. 1 Arduino Uno REV3 Atmega328
N. 1 sensor Shield V5 for Arduino UNO
N. 1 switching adapter 5 VDC / 2A out plug DC
N. 2 Jumpers
N. 10 extension cable for motor switch 600mm
N. 10 extension cable for motor switch 900mm
N. 3 Y cable for motor switch
N. 1 cable 30 cm DC (5,5x2,1)
N. 1 Ardutrain software - Arduino Sketch
N. 1 Ardutrain software - App.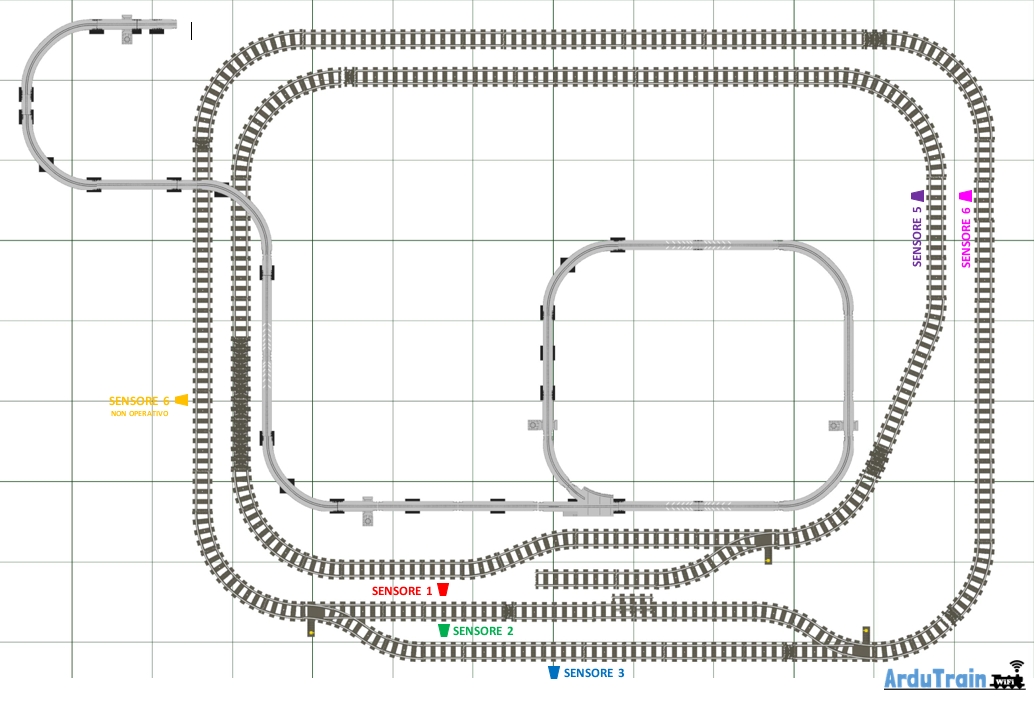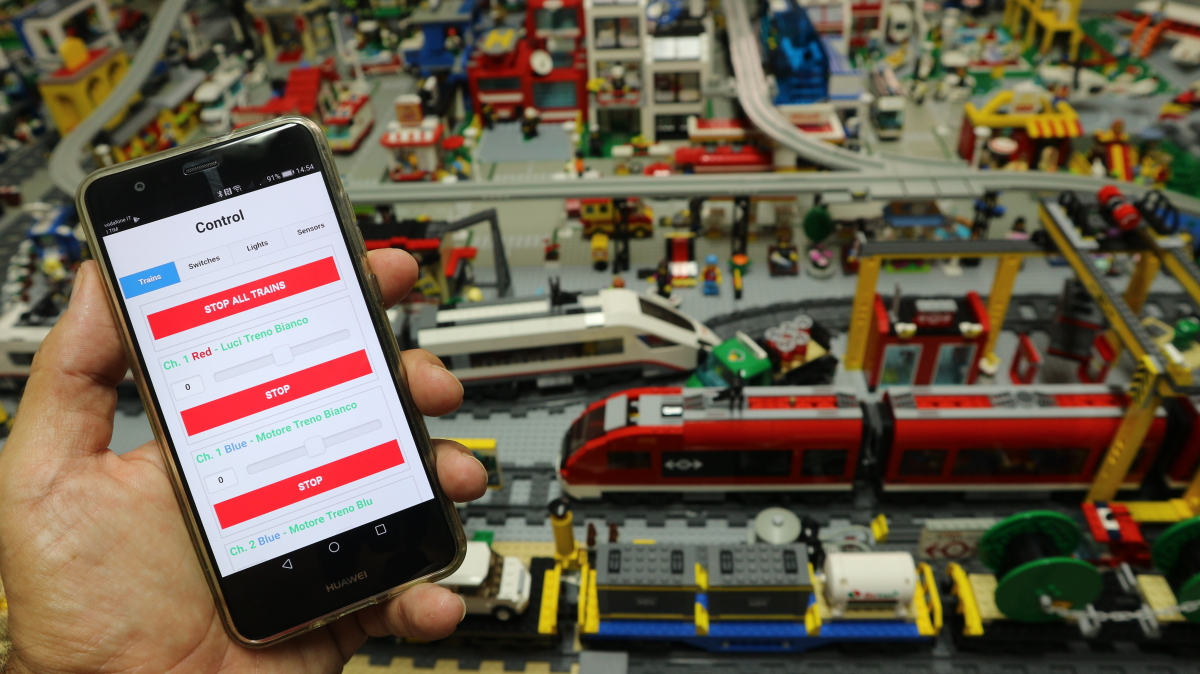 Ardutrain controls trought 2 IR emitter antenna 3 trains, 2 track motor switches, 2 ferris wheel, 2 carousel, the great roller coaster, using the signals by 6 IR Sensors.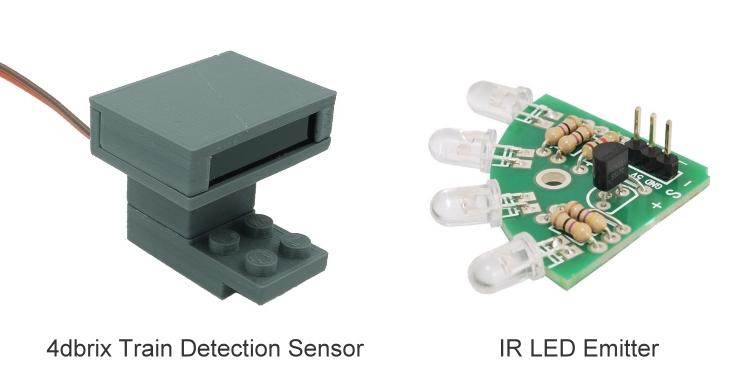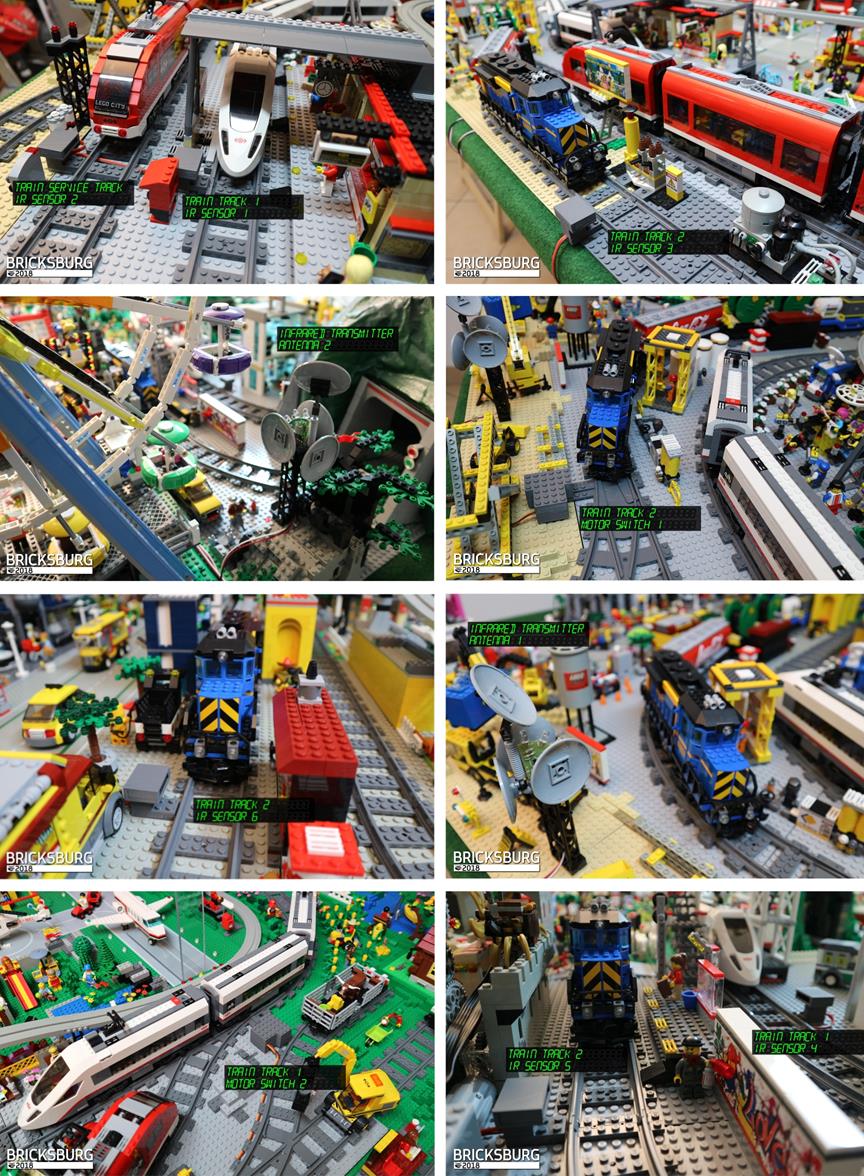 CUSTOM (MOC) SET: amousement park (motorized ferries wheel and merry go round, light and sound haunted house, kiosk and toy stand, balloon cart, Liberty island, little train, clows show), rock concert (led light flashing effects), tv mobile studio, harbour and sea port, beach with waterjet, tennis court, skateborder's zone, town houses, Starbucks Coffee shop, Mac Donald's restaurant, Coca Cola vending machine, car and truck mechanical workshop, butcher's shop, street sweeper, DHL truck, RV caravan, VW hippie van and Vespa scooter, Little Brick's Lake, the lamberjack's hut, train bridge, railways, monorail train and station (from set 6990), ice cream shop, monorail tunnel (with led lights and sound effects), the , butcher's shop, the cornfield, the farmer with the tractor, the laboratory with scientist, the city playground, the climber's peak, the coach, the big construction site, the bank and the money armoured truck, the post office, the artist, the transport of radioactive material, the chicken and the mouse, fireman at work, mom and baby in pram, sub team, Ferrari Spider, the falls, the gold mine, the laundrymat, the mobie studios, etc.
ORIGINAL SETS: 7936 Crossing level and railway crane, 7731 Post van, 10184 Anniversary (Octan garage and gas pump, cinema, city hall), 8403 City house, 6380 Emergency Treatment Center, 6361 Crane truck, 6380 Fire Station, 6541 International seaport, 4010 Police rescue boat, 7346 Seaside house, 6502 Turbo racer, 60008 Museum, 60026 Town square motorcycle shop, 60054 Light repair truck, 5766 Log cabin, 7937 Train station, 7938 Passenger train, 60050 Central train station, 60051 Express passenger train, 60052 Cargo train, 4200 Mining 4x4 jeep, 40108 Ballon cart, 31009 Small cottage, 6368 Jet executive, 6392 International airport, 6698 RV with Speedboat, 6411 Sand dollar cafè, 6350 Pizzeria, 6522 Police highway patrol, 6676 Police mobile command Unit, 6398 Police central HQ, 6389 Fire Control Center, 6634 Stock car, 377 Shell Service Station, 10243 Parisien restaurant, 10246 Detective's Office, 10255 Assembly Square, 21310 Old Fishing Store, 10261 Rollercoaster, 10260 Downtown Diner, 10261 Rollercoaster, 21311 Voltron, 10264 Corner Garage,10270 Bookstore, 10218 Petshop, 10211 Grand Emporium, 60258 Tuning Workshop, 60204 Hospital.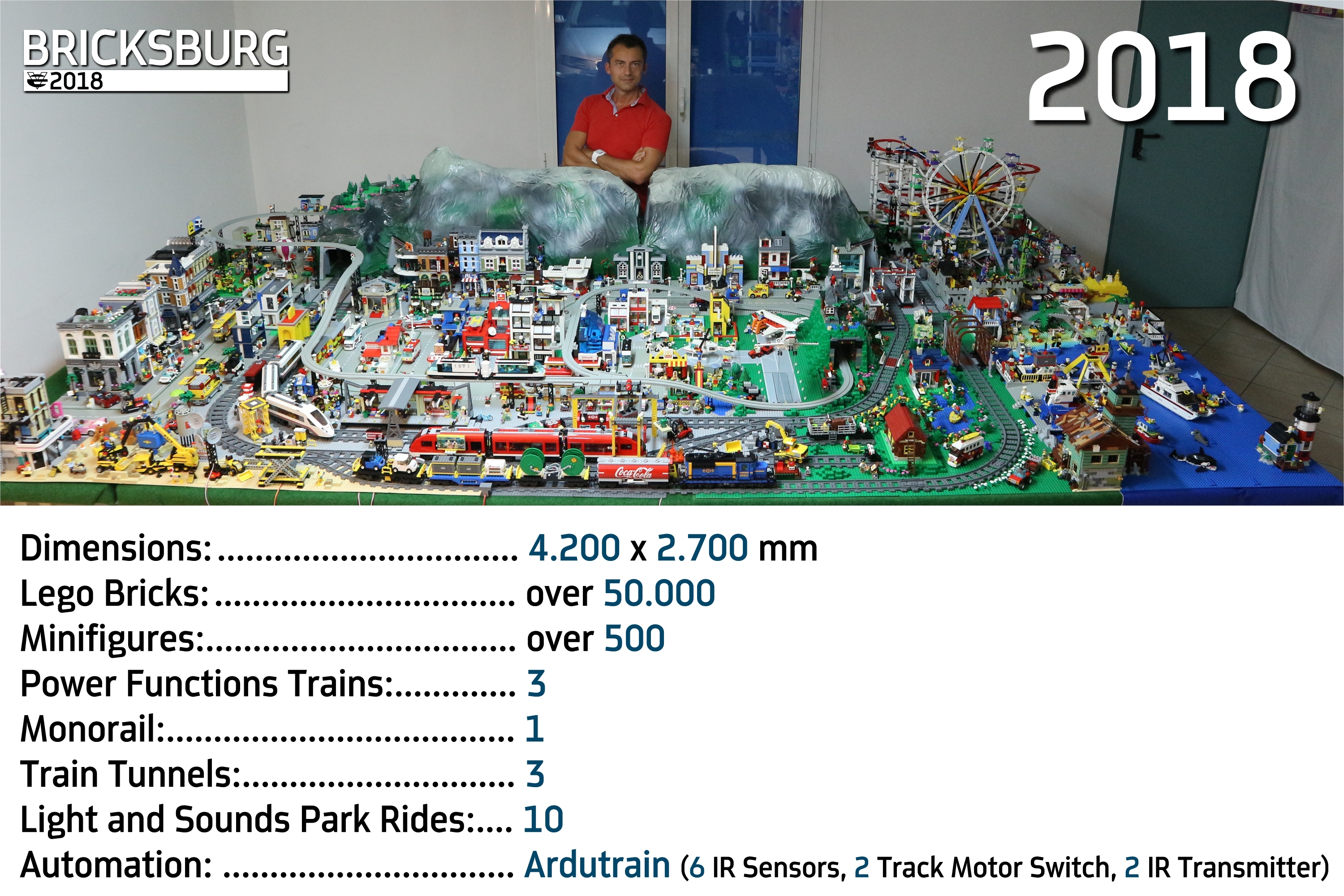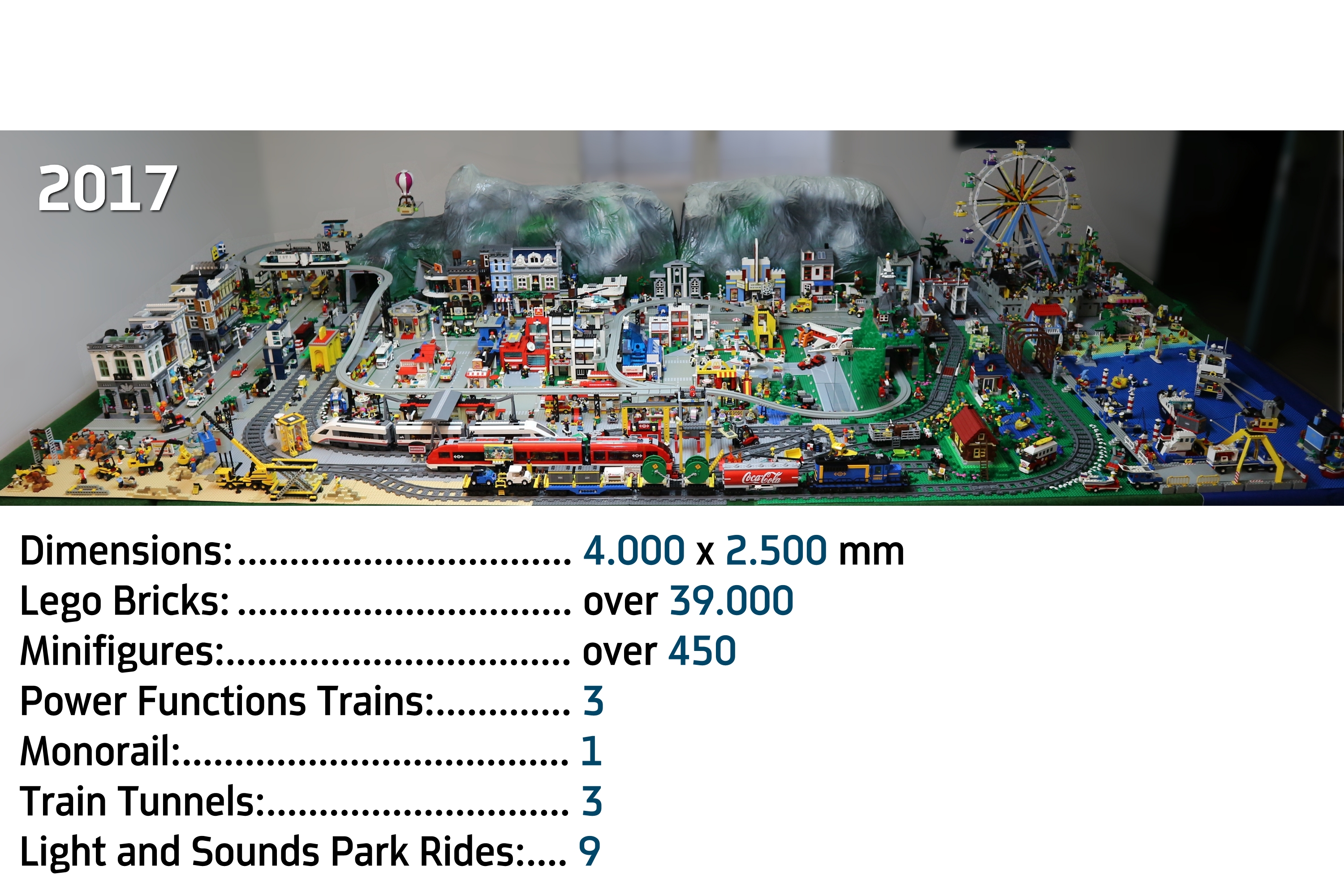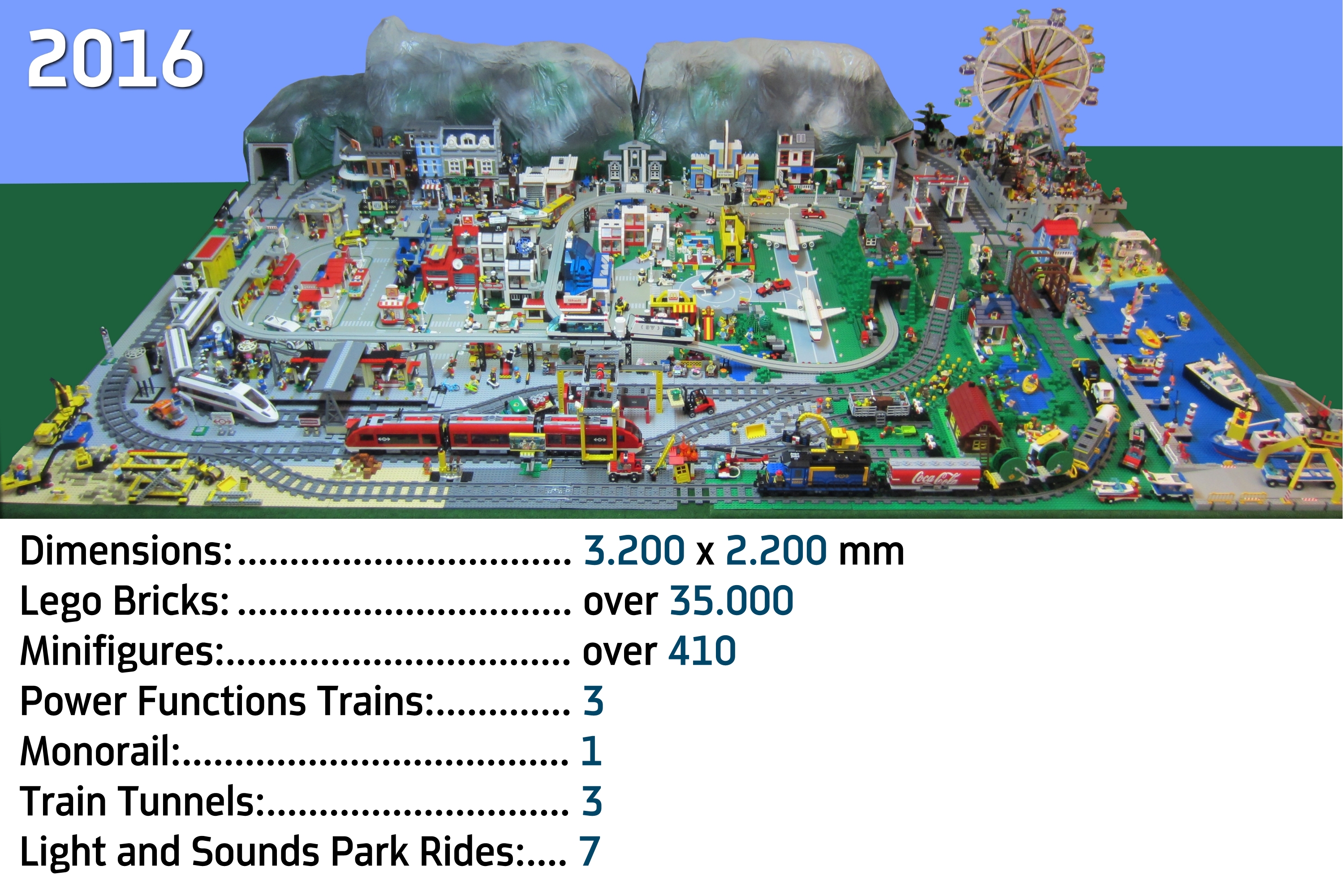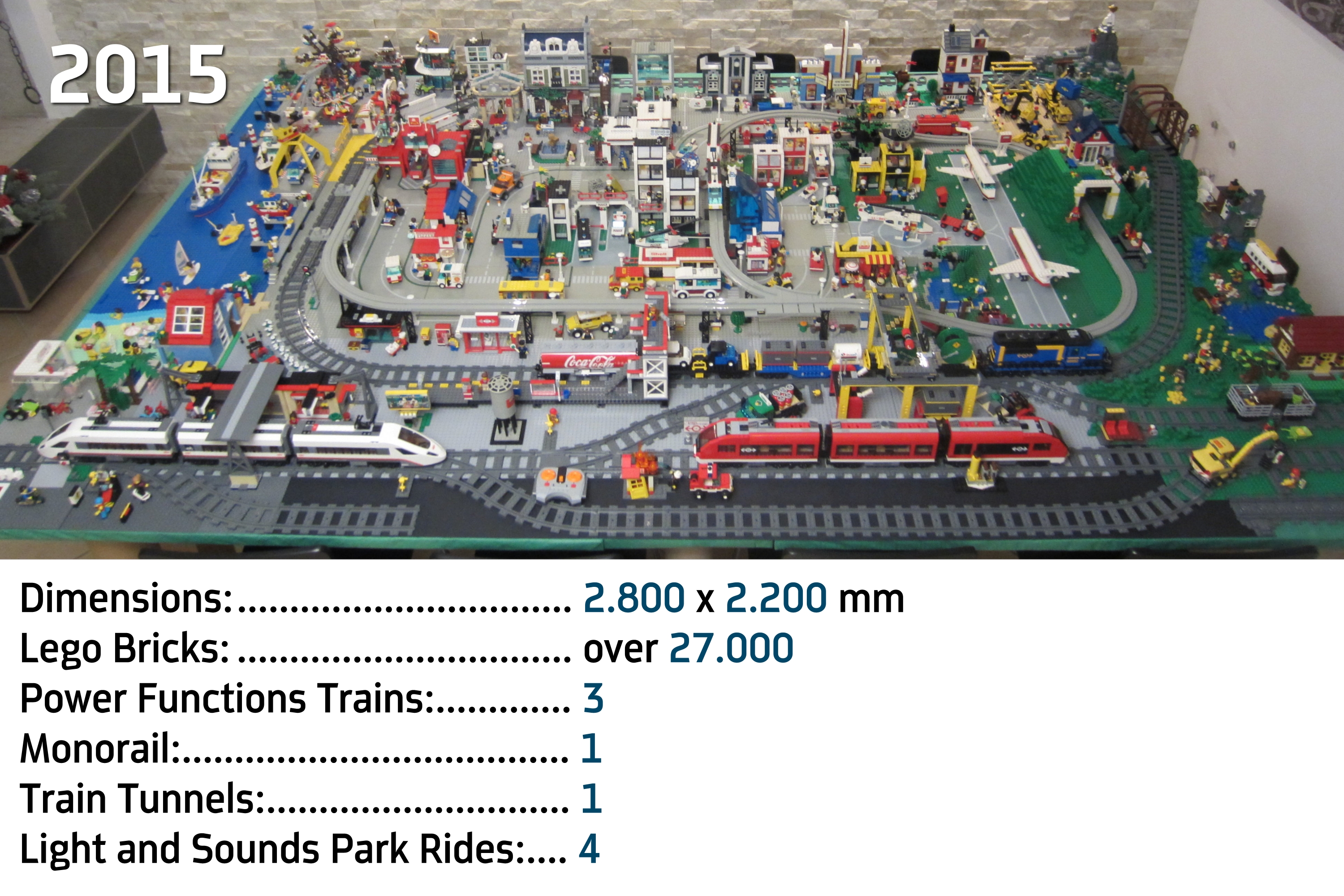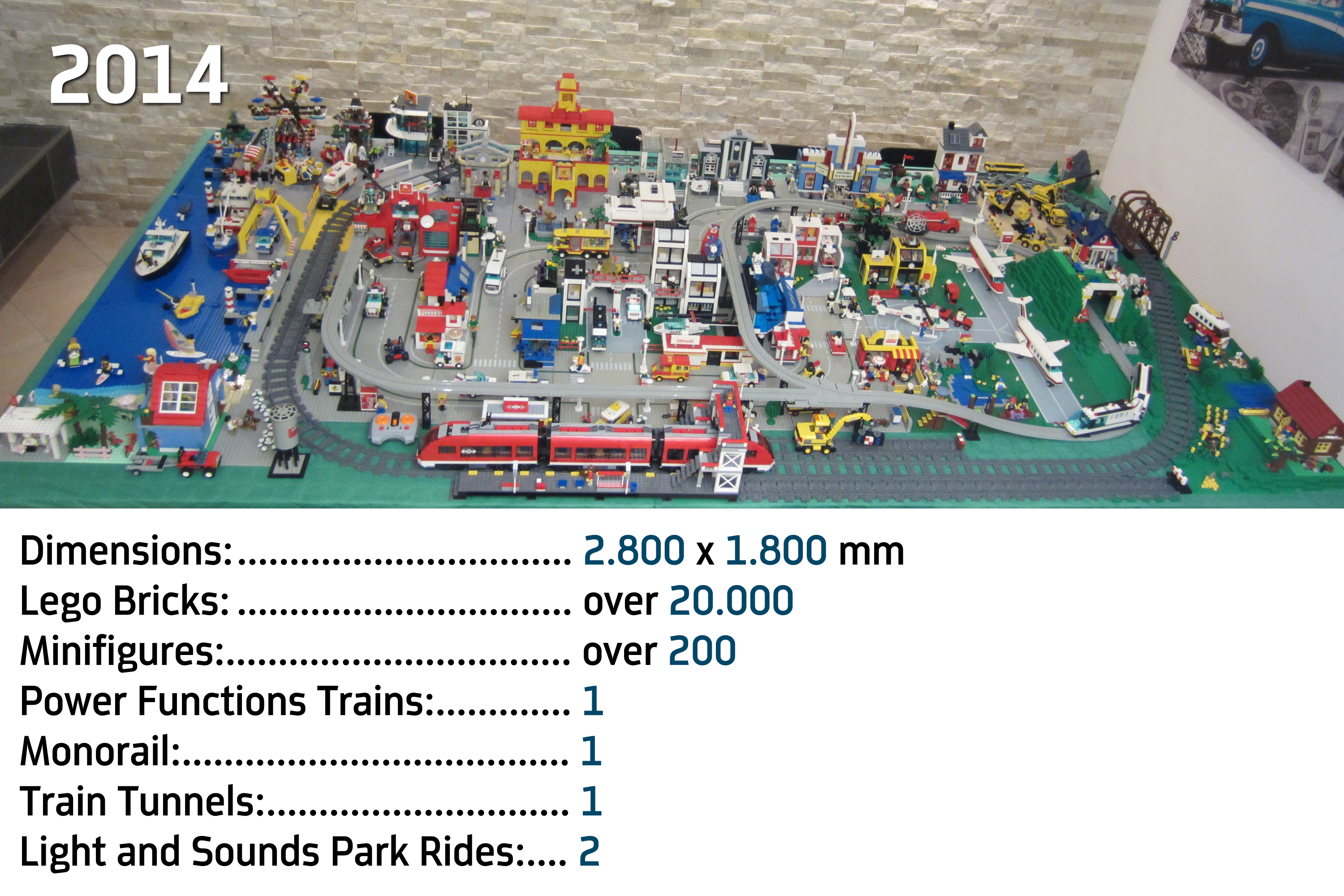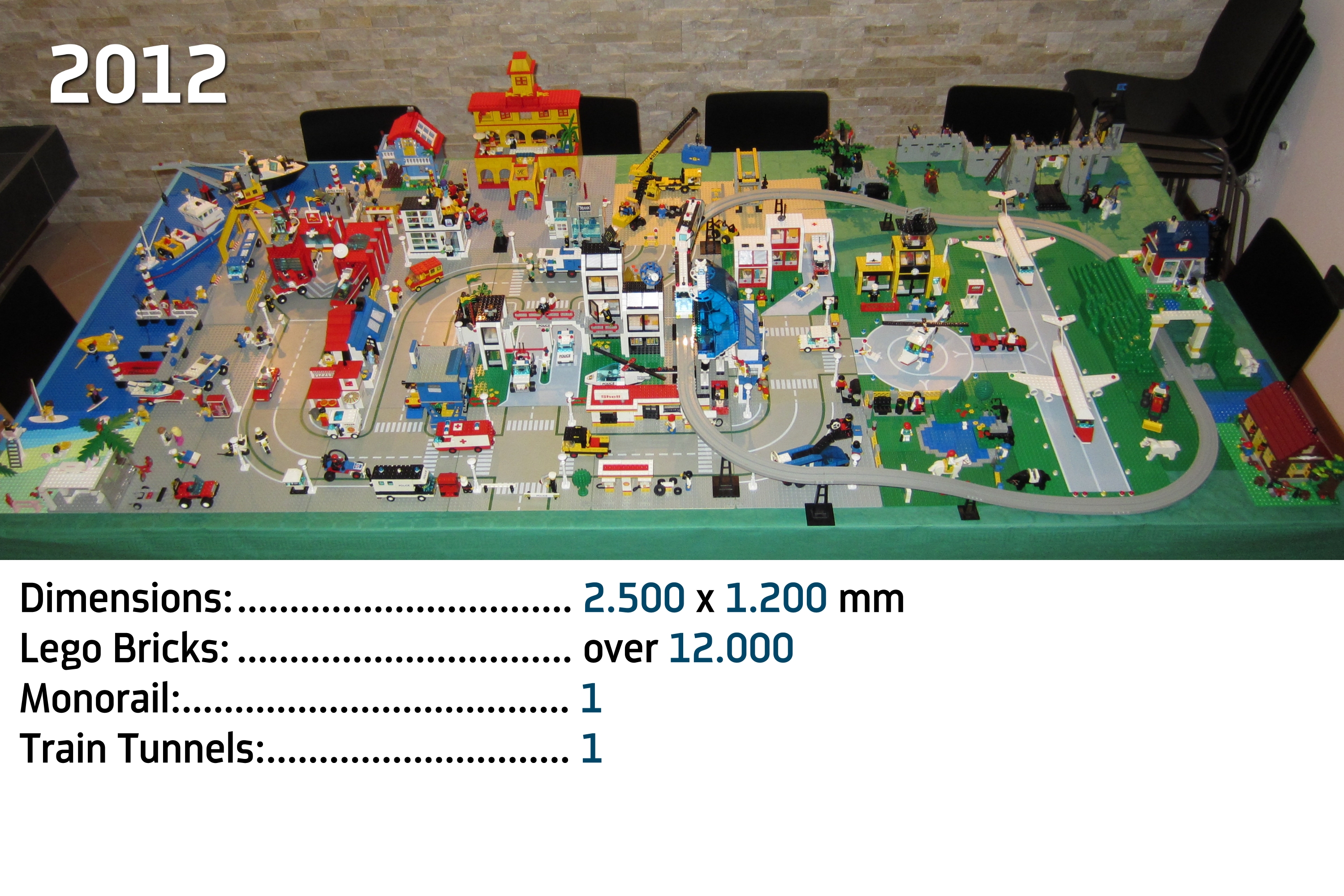 You can immerse yourself in the world of Bricksburg in the dedicated Youtube channel: HERE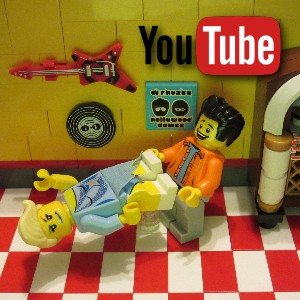 You can watch every detail of Bricksburg by browsing through Flickr albums: HERE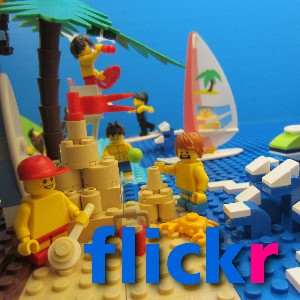 The Instagram Lego Stories are: HERE